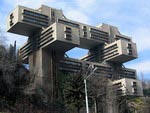 source: wikipedia.org
On the west bank of the Kura River, on a steep rocky hillside there is an overlooking building, built on a patented project "City of Space". This construction consists of three towers, through which passes five horizontal blocks. The main idea of this design is in the least use of the earth's surface, which frees up the space for plants. And protruding of upper blocks visually enhances the building, causing an analogy with the crown of the tree. There are a lot of space and light.
This building was built in 1975 by architect George Chahava for the Ministry of highways of the Georgian SSR. At the same time, he was the Minister of road construction - that is do their own order.
Asked about the choice of place, G. Chahava said: "The ability of simple Georgian peasants is to build their homes there, where they uncover the most expressive landscape, often preferring the natural beauty of the comforts of life, always impressed me."
Today, this building belongs to the Bank of Georgia, who intends to hold its reconstruction and expansion. This project is not yet implemented. Moreover, in 2007, this grand and unique structure of the Soviet era monumental recognized architectural landmark.