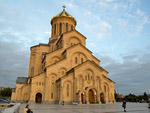 Portrayed as neither Asian, nor European city of Tbilisi, formerly Tiflis, was founded in 458. At the same time, the capital of Georgia was moved from Mtskheta to Tbilisi. Because of its strategic position between East and West, the city was captured and conquered many times and lived under many different patronages: the Iranians in the VI century; the Byzantines and the Arabs in the VII. In 1122 King David, known as "David the Builder",returned Tbilisi to Georgians, but in 1234 it went to Mongols, and in 1386 it was captured by Tamerlane. Then there were Turks and Russians.
Contemporary Tbilisi is a miraculous city with the river Mtkvari (Kura) crossing it in the middle and bordered by picturesque boulevards. Tbilisi tours will take you beside the river, to the old town, with its narrow and fairy-tale-type streets. This part of the city is dominated by the remains of the Narikala fortress and the amazing symbolic figure of Mother Georgia on a mountain above it. Other attractions include the Sioni Cathedral, dating from the V century, gorgeous Tsminda Sameba Church (considered one of the biggest in the world), the Metekhi Palace of the Georgian kings, Anchiskhati Basilica of the VI century, "Dry Bridge" flea market and etc. Modern part of Tbilisi lies at the foot of the Mtatsminda Mountain, which is itself a great landmark to see and is accessible by a renovated funicular rail line.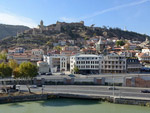 During the Tbilisi tour you will also witness the new renaissance of the Georgian capital: ambitious modern landmarks including the likes of the Bridge of Peace, Heroes Square, Rike Park, the Aerial tramway and so on, all are the beautiful add-ons to the landscape of Tbilisi. At the same time international brand hotels and a number of boutique and business hotels, restaurants, bars, clubs and cafés are enlightening life of the old town.
Another significant and an absolute must-try is a Georgian traditional food; 'khachapuri', 'kupati', 'khinkali' and 'lobiani' are already famous brands representing the Georgian cuisine. For those, who are very much into food experiments and new experiences, Tbilisi tours offer exciting Georgian food master-classes.
Georgian wine tasting is another 'landmark' which stands out in every tour program. The eight thousands years old Georgian winemaking tradition has been included to the UNESCO's intangible World Heritage List. Some of the en-route wineries and cellars have more than 40 types of different wine for you to taste, but it is recommended to narrow your choice up to four. Unless you aim the same as those in famous "pub crawls".
Tbilisi tours is an amazing opportunity to discover a true magic of the Caucasus. Some say that it is something that's in the air that you can feel it right away, from your very first step out of the plane. Others stress that it is all together, the history, the music, the food, the people.