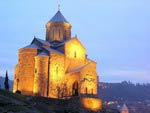 source: liveinternet.ru
One of the oldest and certainly the most famous temple of Georgia - is Sion, or, alternately, Sioni Cathedral. And even with its high status, it was a model of modesty and restraint. Built in V-VII centuries. The temple is as old as the city and experienced all the joys and sorrows that befell Tbilisi.
In fact, it is impossible to determine exactly when the construction of the temple has started. Some attribute the idea of building the city's founder Vakhtang Gorgasali others tend to think that the construction began with the king Guarame. But one thing is for sure - the erection of the cathedral completed in the first half of VII century. It got its name in honor of Jerusalem's Sion. Apart from Sion, in Georgia there are still many places with the same name, but it is the best known.
During its long history the temple was destroyed and rebuilt again. It had to survive the invasion of the Mongols, Persians, Byzantines, Khorezm, and many others. Traces of these events were left on the walls of the church.
Going through the centuries and epochs, architecture of the temple has not changed much - it also retained its strict Catholic identity, and only a traditional Georgian building is crowned by a dome. Inside the decoration is a mixture of different periods, starting from the XVII century to the present day.
It also keeps the cross of St. Nino - the most sacred of Georgia. The woman adopted Christianity on the Georgian land, and its cross is a symbol of asceticism believer - it is made from two grape vines, and woven by her hair.
Sioni Cathedral became a symbol of faith and perseverance of the Georgian people. And while it stands and Tbilisi will stand.