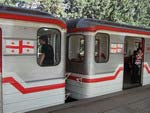 source: mymetro.ru
The underground has traditionally been considered as one of the most convenient and fast means of transport. And Tbilisi subway meets all the requirements of the vehicles. Launched in 1966, today it daily serves more than 300,000 passengers. The total length of lines is 26 km, 22 stations. Today in the Tbilisi subway the works on construction of new stations are carried out.
One hot summer day, Metro will take you to your destination in cool tunnels, and in winter it will protect from frost and cold winds. The stations are located underground, except for two. Some stations are very deep underground, but at the expense of high-speed escalators descent and ascent on the station are very convenient.
Decoration of stations tends to Soviet architecture, although some of them made in Georgian style. A subway rolling stock refurbished and made in the colors of the national flag of Georgia. After the major reconstruction, many stations have found new species, but the works in "underground city" still continue.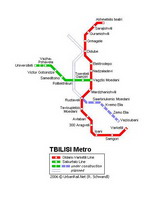 source: urbanrail.net