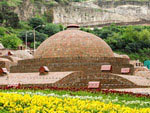 The chief attractions of Tbilisi are sulfur baths. The reason for this is the story of the town, according to which the king Gorgasali saw warm sulfur springs, gave the decree on the construction of the new capital of his state at this place. Even the name of the city is translated as "warm".
In the XIX century the number of detected sources on the hillside Tabor was 31, many of which have long been equipped with a bath. All baths are located in the old town, and place on a "bathhouse" street.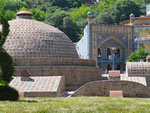 Baths here have the names of their first owners. Iraklievskaya Bath is the oldest in the city - in the XVI century members of the royal family and the princes fought for its possession. At the beginning of XVII century there were also constructed famous baths - Bebutovskaya, Treasury, Sumbatovskaya. And the most beautiful - Orbelianovskaya bath with lancet facade and minarets at the corners. By the way, own baths are underground, and are visible on the surface of the dome, let the daylight.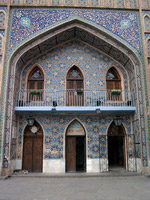 Baths were not only a place of healing and bathing, but also an important place for communication. People have remained here until the morning to discuss problems or share news and special days here matchmaker arranged bride. There were also luxurious baths for the princes, baths for gentlemen and officers, and baths for ordinary residents.
Today, thanks to its healing properties, some baths converted to water treatment facilities. A few hours spent in the warm water source, the person is improving considerably and gets a lot of fun. Also, here you can visit the swimming pool or a massage.
The warm sulphurous bath - is not just a place to wash, but an important historic place, around which grew the present capital of Georgia - Tbilisi.