A distinctive feature of Tbilisi is a large number of old churches, but the cathedral "Sameba" is not included in their number. This magnificent building stands on a hilltop of St. Elijah, in the heart of the city.
Tsminda Sameba - in Georgian "Holy Trinity", the main cathedral of Tbilisi Georgia Orthodox Church. Its construction began in 1995 and ended after 9 years, in 2004. After lighting it became one of the highest Orthodox churches in the world. Its height is 98 meters, an area of over 5000 square meters and capacity 15,000 parishioners.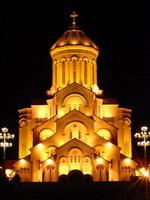 This is truly a colossal scale. Restrained decor and Georgian architectural style creates around him an aura of permanence. A night lights illuminate the temple so that it seems a huge bonfire upward aspiration.
Together with the lightening from Sioni Cathedral here was moved the Chair of the Catholicos of Georgia. Now here is the residence of the supreme priests of the Georgian Orthodox Church. Of course, it is only 6 years old, but already has entered himself in history and deserves due attention. Sameba - the new symbol of faith in Georgia, and new achievements.