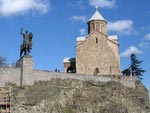 source: asthma.ge
On the rocky shore of the river Kura, on a small hill, there stands witness of the long history of Tbilisi - the temple Metechi. First, there stood a palace of local kings, which was allegedly built by Vakhtang Gorgasali, founder of the city. In the XII century the church itself was built, which has been preserved to date.
During its existence it has been repeatedly destroyed and rebuilt again. In the XIII century it was razed to the ground by Mongols, but it was quickly restored. In XV century it was destroyed by the Persians, and in the XVI-XVII centuries, it was constantly rebuilt by the Georgian kings.
Near the temple in the XVII century the fortress was built, which was later converted into a prison, and in the middle of XX century it was completely leveled. But the temple has undergone abuse, when in the XIX century it was turned into barracks Cossack regiment. In the middle of XX century, it barely survived in the demolition of the adjacent castle and in 1987 was capitally renovated and returned to possession of the Georgian Church.
In the temple there is a sacred burial Shushanik, Georgia's first martyr. And next to the church is a monument to the founder of the city Vakhtang Gorgasali. Metekhi - a true symbol of Georgia's faith, culture and history.