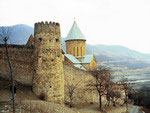 source: narod.ru
The greatness of this castle goes into the depths of centuries. It impresses with its high walls, and its inaccessibility of towers, located on Mount Mtatsminda, offering a view of the whole Tbilisi. Founded around the IV century, it is the same age as the city, and perhaps surpasses its age. Originally called the citadel Shuris-Tsikhe that can be translated as "enviable stronghold", but during Mongol invasion it received a new name - the Naryn-Kala, which is translated to Mongolian as "Small Fortress".
Already in the VII-XII centuries, along with the growth of the city, the strength also grew. The city walls went down to the river, and the rulers of the castle had complete control of trade routes that run along the river Kura. Narikala was virtually inaccessible due to its surrounding mountains, but still the citadel was captured, destroyed and rebuilt. For example, the current form of fortress belongs to the Arab architecture type of VII-XII centuries. Like any defensive military facility near the citadel there were secret passageways, as well as a special system of water supply.
But in 1827 the fortress could not withstand the forces of nature - a major earthquake destroyed much of the wall and towers Narikaly. At the same time the temple of the saint Nicholas, which was in the citadel, was destroyed. The remains of shrines were found only in 1966 during excavations, and a few years later a temple, built in the XIII century, was restored.
Today in Narikale there have been many restoration and rehabilitation works not to protect the ancient citadel from invaders, but from the time. It is now fifteen hundred years, Georgia has grown, and the fortress still overlooks the town, keeping a history of the Georgian capital.