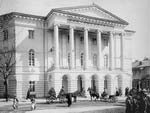 source: wikipedia.org
Not far from the Liberty Square is a building of the beginning of XIX century, in which more than half a century, the museum of arts of Georgia is operating, officially referred to as the Museum of Fine Arts named after Shalva Amiranashvili. This is one of the largest museums in the country, and its funds are more than 140 thousand of Georgian, Oriental and European art.
History of the museum began in 1920 when a group of young artists founded the National Gallery of Art, which became its predecessor. The museum changed its name and building. And in 1950, finally moved to the building of a former seminary and received its present name. Shalva Amiranashvili, whose name is now a museum for 30 years at the helm held a great work to replenish the collection. Part of Georgian art exhibits have been returned from Europe, the other part was obtained from private collections.
First of all, it is worth noting that the collection of plique-a-jour of the museum includes almost a third of all enamels in the world. Many of them dated from the X-XII centuries. Another interesting collection is samples of medieval coinage, dating from the VIII-XIII centuries. The most significant among them are the golden cup of the Georgian King Bagrat III and Queen Tamara Chest cross, inlaid with precious stones. Also, the Museum has ancient icon Anchiskhati, dated VI century.
The collection of fine art works is presented by the works of Repin, Surikov, Serov, Aivazovsky, Vasnetsov and other famous masters. Georgian painting in the museum is the primary, and covers the entire period of the artistic culture of the people. In addition, here is a collection of Persian miniatures and other Eastern countries.
Also, it is worth noting that the museum often organizes exhibitions in other countries. And in 2004 it joined the museum, forming the Georgian National Museum.