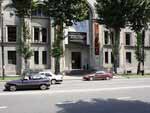 source: georgien.bilder-album.com
Needless to say that Tbilisi is one big museum city!? But anyway, it does not mean that there should be museums as such. And one of the most interesting museums in town is the Georgian State Museum of S. Janashia devoted to the history of the country.
The museum is one of the largest not only in Georgia but throughout the Caucasus. Also known as one of the oldest in the country - it was founded in 1923 based on Caucasian Museum, which was built back in 1825. The exposition covers the period from IV century BC and until the present day.
The museum's collection includes various ancient household items, jewelry, weapons, money, etc. All of them reflect the evolution of life, culture and creativity of the Georgian people. But among them there are exhibits that deserve a separate word.
For example, in 1991 near the village of Dmanisi archaeologists discovered "set-up" of primitive people, as well as their remains. The uniqueness of this discovery is that the age of found bones is 1 mln.770 thousands of years and later named Homo georgicus is one of the oldest human ancestors found outside of Africa. On the remains of the Dmanisi there was made the reconstruction of two primitive people, called Zezvu and Mziu, and now they are in the museum.
Also the item of considerable interest in the Museum exhibition is "Van gold." This is a collection of jewelry made of gold, which is unique in the craftsmanship of their production despite the fact that they date back to IV century BC
In addition, visitors can see a lot of interesting exhibits, such as materials of excavations of the mound Trialeti, a collection of coins and weapons from the Middle East, and much more.