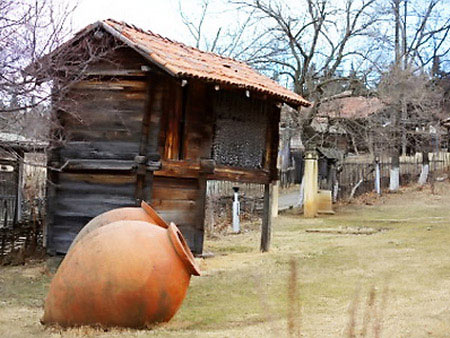 On the shore of Turtle Lake, a favorite vacation spot of the townspeople stretched Museum of Georgian folk architecture. This is one of the most important ethnographic museums in the Caucasus. Here is an entire village consisting of houses of different eras. You can spend hours walking in this open-air museum.
In the first place it worth seeing the reconstruction of the ancient dwellings of the Caucasians - "Darbazi". This house, invisible, almost entirely under the ground, was to defend against raids by the Turks. Above Ground rose only a roof in the form of slides. These houses have been spread in the east. To the west is dominated by Georgian wooden houses with thatched roofs.
Also in the territory of museum there are other buildings from the welfare of Georgians: wine cellar "Merani", storehouses, barns, water mills. All of them are made in traditional Georgian style, reflect national culture. In those buildings, you can see the big chests, furniture, pottery, weaving machines, carpets and many other household items.
But undoubtedly, the most popular exhibit among visitors to the museum is considered a hunting lodge. This reconstruction of the XVIII-XIX centuries attracts not only tourists but also film-makers.
If you do not have to drive around the whole Georgia, a museum of folk architecture - will provide an excellent opportunity to explore the life of the ancient Georgians and their distinct culture.