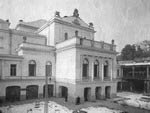 source: teatri.ge
This theater can rightly be considered as the oldest in Georgia. It was officially opened in 1932, but it founder in Tbilisi is a professional Russian Drama Theatre, the first performances of which were played in 1845. The theater building is located in the main street of the city - Shota Rustaveli avenue. This is sample architecture of the XIX century.
In its walls were staged dramas of the works of such famous writers as Bulgakov, Chekhov, Dostoevsky, Tolstoy, Zola, Molière, and others.
During the collapse of the Soviet Union the Theatre was in decline due to lack of funding, diversion of personnel. But today, within its walls once again raises the magnificent performances, which are a reflection of the modern world. This is not the theater of Soviet times - felt the new aesthetics, style shows.
In addition, the theater has not forgotten about the young audience, and here you can see performances of fairy tales, raising the artistic taste of the younger generation.
Despite its half century of age, the theater tries to stay current. And gives its viewers a vivid spectacle, not forgetting to touch serious topics and contemporary issues.