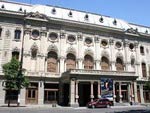 source: dic.academic.ru
One of the leading theaters in Tbilisi - is Rustaveli Theatre, located on the main avenue of the capital of the same name. The building of the former Artistic Society was home for it, built at the beginning of XX century. Being one of the most beautiful avenue, it is decorated with glass windows and walls with images of mythological creatures - gargoyles, guri, etc. The furniture is in the style of the leading artists of Georgia 1920.
The theater itself was founded in 1921 on the basis of the State Drama Theater, and continues to this day the best traditions of Georgian drama. And for its centuries-old history, on the stage were played Shakespeare, Miller, Brecht, Lope de Vega and others.
Today the theater Shota Rustaveli - major cultural attractions of Tbilisi. And by its performances it encouraged not only residents but also its guests.